RV Remodeling & Customization Services
Are you looking at ideas on how to upgrade and remodel your RV but never knew who to turn to? We're here to help! You will find our showroom is loaded with custom RV interiors and decorations inspired to showcase both current fashion and trends in the RV industry. In addition to the unique products that we design and manufacture ourselves. You will also see innovative designs and product enhancements that any owner can bring to all living areas of their RV.
Lighting
TV
Windows
Solar Power
Entry Mats
Trim
Screens & Covers
Water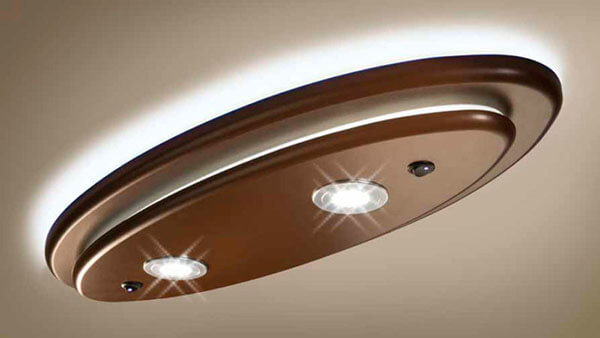 LED Lighting Upgrade
The advent of LED lighting has opened up a world of exciting new possibilities for lighting in RVs. Now you can create the same elegant look in your RV that was normally only available in 'high end' motor homes. Not only that, but you can also do it for a fraction of that high-end cost!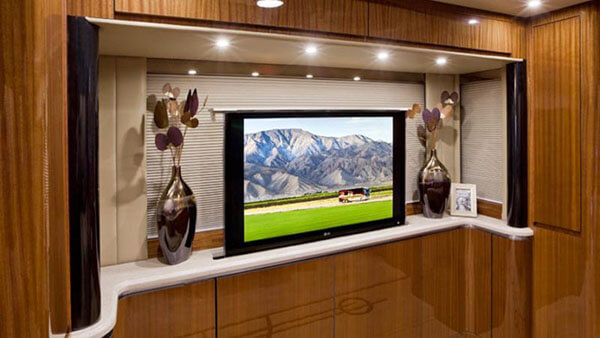 Flat Panel TV Upgrade
It was not until around 2006 - 2008 that manufacturers began to install flat-panel TVs in their vehicles. Prior to this, most installations had cathode ray tube TVs. The difference in picture quality and screen size of these older units, compared to current HD flat-panel TVs is dramatic. Let us show you how we can replace these older TVs with a larger screen, more compact, flat-panel TV, and how we can position them for greater enjoyment in different locations in your RV.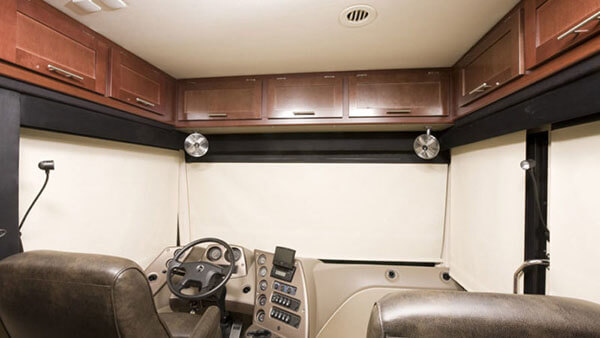 Window Treatments & Roller Blinds
Most RVs come equipped from the factory with the traditional day/night pleated shades. If you have experienced these shades you will know what a problem they can be. The tension on the strings is forever needing adjustment otherwise the shade will slip down on its own. The strings become frayed and break, it requires two hands to pull them up or down. The nightshades lose their pleat and become warped, they gather a lot of dust and are impossible to clean!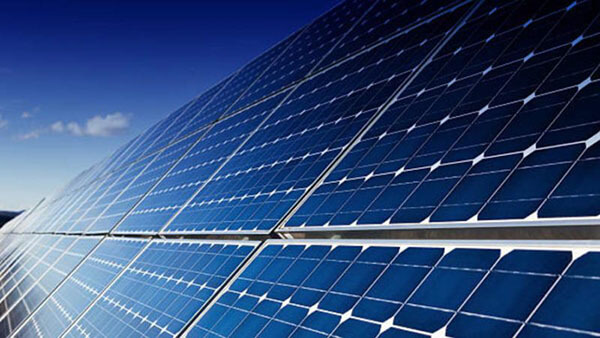 Solar Power
Solar panel technology has come a long way in recent years and now provides a tailor-made application for RV use. Up until recently, RVs have only had two sources of power: shore power and generator power. Shore power can be expensive and not always available, while generator power can also be expensive and noisy to operate. Now with solar power, you have a new source of power that is quiet, available everywhere, green, and best of all free!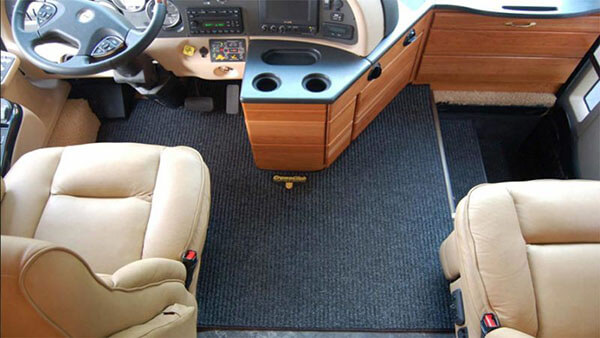 Diesel Coach Custom Entry Mats
The unique thing about every diesel motorhome model ever made is that the floor area under and around the front dash is a different shape. It is also an area that takes the most abuse when you enter the coach with wet or muddy feet and rock particles. This condition can quickly impact substantial wear and tear around the cockpit area of your coach if left unprotected. Since every cockpit floor area is a different shape the only way to effectively protect it is to custom make an entry mat. Our mats are made from a coarse woven outdoor carpet which will not only protect your floor but will also remove rock particles from your feet. We guarantee your mat will fit your floor area perfectly. We can also provide matching inside and outside step mats.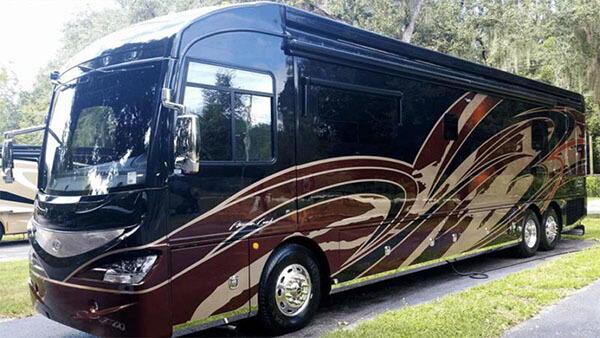 Stainless Steel Trim
There is nothing like a little bling to dress up your coach and protect your basement compartment doors from incidental damage. Choose our Classic Armor a simple flat stainless steel for a classic and clean look available in 4" & 6" heights. Our Premier Armor provides a smooth, highly polished finish and is formed to match your coach body profile for an OEM quality fit as illustrated in the photo.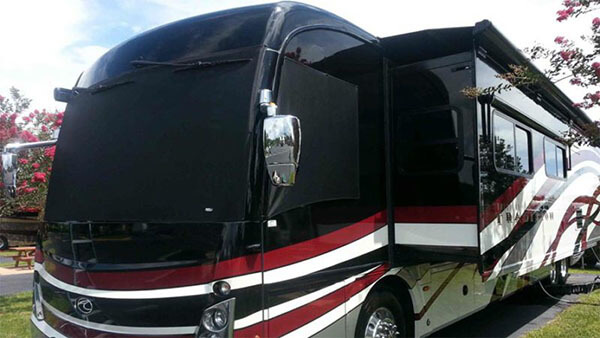 Solar Screens & Covers
You will be glad when camping in hotter weather that you have solar screens to help mitigate the heat transfer through your windshield and side windows. Our deluxe solar screen package includes the passenger seat window, entry door, windshield, and driver side window. It also includes a storage bag to keep all your screens safe when not in use.
Protect your tires when parked in sunny weather. Nothing is more damaging to your tires than the UV in sun rays. The sidewall of your tires will begin to dry out and start cracking prematurely if they are not covered. Our wheel covers snap on to the outside of your RV. This lets your tires breathe, unlike traditional wheel covers that can trap moisture and promote tire rotting.
Pick-up a set of wiper covers to protect your wipers from the sun and extend the life of your wiper blades. Finish your installation with a set of mirror covers that fit like a glove to protect and enhance the appearance of your mirrors.
Truma Hot Water On Demand
Are you tired of always running out of hot water with your 6 - 12-gallon hot water heater in your RV? With the Truma AquaGo providing unlimited hot water on demand, you never have to take a cold shower again. What makes the AquaGo so unique is its ability to be retrofitted without any body modifications to your RV. Made in Germany the fit and finish is precise and has gone through countless hours of engineering and manufacturing scrutiny by highly trained experts. On-demand hot water in RVs used to be a feature limited to only high-end diesel pushers until now. With this new feature, hot water is now available to any RV with a standard propane water heater.
Schedule an Appointment